Car Display Systems
With more than 80 display towers manufactured, NUSSBAUM is leading the industry in high tech car display towers like Carvana's Car Vending Machine. Since the 1990s NUSSBAUM has been the most important supplier of car display systems.

CARVANA CAR VENDING MACHINE

Carvana, the fastest growing used car sales company in the U.S., came to NUSSBAUM to execute a fascinating concept. A fully-automated, coin-operated Car Vending Machine that brings a new way to buy a car. All designed, developed and produced by NUSSBAUM.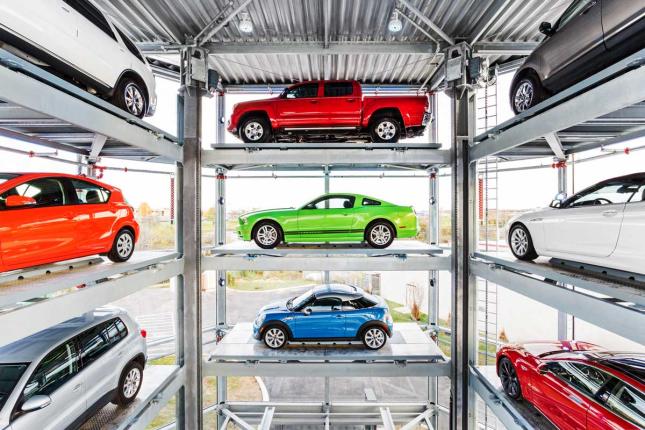 Customers using the Car Vending Machine will see a striking design that stands eight stories tall with four deliver bays. The design and functionality was established as the new blueprint beginning with the launch of the Nashville Car Vending Machine in November of 2015. NUSSBAUM has designed, manufactured and installed a total of seven Car Vending Machines in Nashville, San Antonio, Houston, Austin, Dallas, Raleigh and Jacksonville.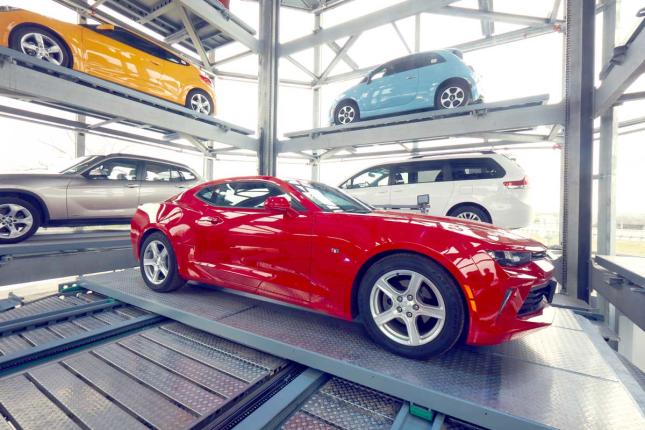 New to Carvana's Car Vending Machine is a freshly designed coin machine that offers a slightly different pick-up experience compared to the other Car Vending Machine locations. To pick-up a purchased vehicle, the customer simply drops their custom coin into the Car Vending Machine's coin machine, which activates the automated vehicle delivery system. With the customer looking on, the Vending Machine then retrieves the car from the Tower and places it on a track. The track then moves the car through the machine until it reaches the designated delivery bay. The bay then opens and the customer is invited in to begin their 7-day test-own period with their vehicle.
It goes without saying that we're excited to be partners with Carvana and their growing line of signature Car Vending Machines.